Healing Hikes
I will guide you on a Healing Hike in one of the many beautiful locales nearby. Taking cues from nature and spirit, your hike will guide you through life questions and expand your awareness of your surroundings. Leave your troubles behind and cleanse your Energy Body in the beauty of Mother Nature!

Here is what comes with your healing hike:
Cleansing Smudge
Reiki Healing Session
Spiritual Guidance
Healthy Lunch
Sound Healing
Guided Meditation
Connection to the Earth
Fresh Air, Love and Light
Here are 3 of my favorite places to take guests on a Healing Hike:
Pacific Crest Trail

Follow the famous Pacific Crest Trail through the backcountry high desert around Lake Silverwood. Beautiful rock formations and desert vistas prevail. If you are feeling ambitious it's a 7 mile hike to the Hot Springs, but there is plenty to explore within a mile or two of the parking lot.
---
Camp Paivika Trail

Camp Paivika Trail follows the southwest rim of the San Bernardino Mountains, breathtaking valley views and majestic pines are the dominant feature of this hike. This is the perfect hike for getting in touch with nature and quiet solitude.
---
Lake Gregory Trail

This 2 mile hike offers many moods and environments as you work your way around this beautiful mountain lake. This is the easiest of the hikes and can be started right from the front door of the retreat, but it is a popular activity on the mountain and lacks the solitary feel of the other hikes.
"Randy tailor-made a retreat for my friend and I. He healed us, cooked for us, we went for a healing hike around a beautiful nearby lake.

I can't say how powerful it was just to break away from the city and have someone's intentions for healing focused solely on you. Randy was that someone and his healing hands are amazing. He is a strong force for balancing you. It's so much more than Reiki, but, it feels great too. Thank you Randy, for your talent, for your great snacks and for the peaceful mountainside atmosphere.

I'm definitely coming back."

~ Libby
Included in your Healing Hike
Reiki Session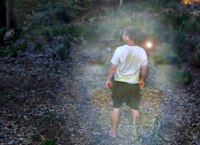 You have not experienced a Reiki Energy Healing session until you experience one outdoors. Feel total rejuvination as you receive this Universal Life Force energy healing. Reiki relieves both physical, emotional and energetic trauma.
Sound Healing Session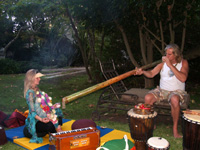 Sound has long been known to have healing properties. For thousands of years indigenous peoples all over the world have used drums, flutes, didgeridoos, chimes and gongs in spiritual rituals and healing practices. Among the tools I use are the Didgeridoo, rattles and chimes.
Healthy Lunch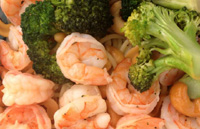 Healing Hikes can work up a pretty big appetite. Water and food will be provided on your hike. At the end of our adventure we will enjoy a picnic lunch. Whether you're a total carnivore, a vegetarian - or somewhere in between - your food will be customized for you. You can specify a restriction (no dairy!) or a request (I love seafood!) and leave the rest to me. Or we can discuss your exact needs.
Cleansing Sage Smudge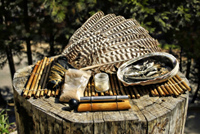 Using a smudging tool is part of many Native American traditions. The burning of herbs for emotional, psychic, and spiritual purification is also common practice among many religious, healing, and spiritual groups. The ritual of smudging can be defined as "spiritual house cleaning" and it is the perfect Ceremony to begin your Healing Hike.
Spiritual Guidance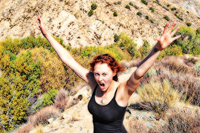 Many people that come for Healing Hikes are in need of guidance, advice or just a loving listener. Feel free to vent, question and inquire on any topic that suits you, I will do my best to offer all the wisdom my spiritual path has given me. Everyone feels jubilant after unloading their burdens!
Rates
Healing Hike
4 hour healing hike with Sage Smudge, Didgeridoo Sound Healing Session, Guided Meditation, Spiritual Guidance and Lunch.

$200 per person (group rates negotiable)
Ministry

I have been an ordained minister for the last 15 years or so, first by the Universal Life Church, and more recently by the Church of the Latter Day Dude. While these ordinations may seem whimsical, I do take my ministry seriously. Not TOO seriously, mind you, but I am committed to helping others on their Spiritual Path.